Late Winter – The Best Time to Prune
February 12, 2019
We're entering the optimal period for pruning many of the ornamental trees and shrubs that are popular in our region. Pruning will make it easier for air and sunlight to reach the plant and allows the plant to make better use of those resources.
Why February?
-Plants lose less sap if they're cut while they're dormant. That means they can heal faster, before they have to start devoting resources to new growth.
-Without leaves and flowers obstructing your view, it's easier to spot weak and damaged branches.
-Pruning encourages new growth, just as spring arrives.

Which Plants Should Be Pruned Now?
-Butterfly bushes
-Crepe myrtles
-Ornamental grasses
-Roses
-Oaks, pines, and other trees native to Alabama
-All deciduous trees(trees that lose their leaves every year)

Which Plants Should Be Pruned After They Bloom?
-Azaleas
-Forsythias
-Gardenias
-Rhododendrons
-Trees that ooze sap during February (like birches, dogwoods, and maples)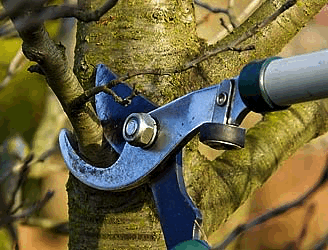 Pruning Pointers: The main objective is maintaining the structure of the plant so it stays healthy. Fortunately, this goal is almost always compatible with making the plant look good! Here are a few ideas to make your pruning agenda less stressful and more successful.
-It's best to prune when the weather is mild and dry.
-Begin by removing diseased or dead branches.
-Then proceed to small branches near the base of the plant, any branches that touch or cross, and overgrown branches.
-Cut each branch at the collar, where one branch meets another. Cut at an angle, and don't leave a stub.
Your Tool Kit: Cleaning and sharpening tools ahead of time will pay off in more efficient work. Below are the tools you need for each type of cut.
-A pole saw (ideally with a lopper attachment) for overhead branches
-A hand or electric saw for thicker live branches
-Loppers for thicker dead branches
-Hedge shears for small limbs
-A pocket knife for the smallest cuts

Remember that it's hard to actually kill a plant with an overenthusiastic trim.
If you have any questions regarding winter pruning, call us at 334.466.0600 to talk with one of our knowledgeable lawn specialist.